Advice from the Experts: Keep Your Hardwood Floors Looking Pristine
Mar 8, 2018, 20:13 PM
Whether your hardwood floors are brand new or part of the home's original features, upkeep is key. Maintaining the brilliance of your floors can give your household the striking look for which every homeowner is searching.
Hardwood floors are an investment that can last a lifetime. MP Caroll Hardwood, WNY experts in hardwood flooring since 1985, advise you to follow these simple care instructions to keep your hardwood floors looking like new.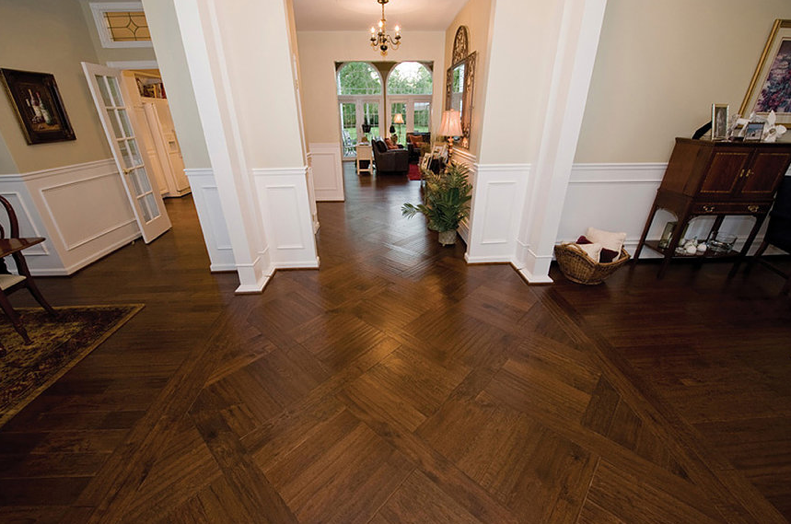 Clean and Maintain:
Sweep or vacuum regularly. (NOTE: vacuum head must be a brush or felt type, do not use a vacuum with a beater brush and be sure that the vacuum wheels are clean)
Wipe up spills immediately using a soft cloth; a slightly dampened cloth will help if working on stubborn or sticky substances.
Use "Goof Off" or mineral spirits to remove scuffs, adhesive residue, tar, crayon or dried latex paint.
Wash your floors every six to eight weeks; use cleaners formulated for hardwood use only and spot clean between washes. (MP Caroll carries a full line of approved cleaning solutions.)
The use of steam mops is not recommended; steam mops use water vapor under pressure and will push moisture into areas of your hardwood floors that is not protected which may cause damage.
Never use any type of floor polish.
Protect:
Adhere felt pads on the bottom of your furniture legs to protect against scratches.
When moving appliances, do not push or drag. Use an appliance dolly and sheets of plywood to safely move these items.
Furniture that have narrowed or metal style casters can cause damage to your floor; replace them with a rubber designed caster.
Place area rugs/doormats at entry points and in front of kitchen sinks. All rugs should be made of breathable material as not to trap moisture.
Everyday Care Reminders:
Do not push or drag anything across your hardwood floors.
Keep your pets nails trimmed and lay down runners where they are known to regularly run.
Remove shoes with spiked or damaged heels before walking on any hardwood surface.
Hardwood expands and contracts with humidity changes; it performs better between a 40-50% relative humidity level and an ambient air temperature between 60-80°. The use of air conditioning systems, humidifiers and dehumidifiers will assist in maintaining these levels.
If you have any questions about your hardwood floors or would like to talk to an expert at MP Caroll about having new floors installed, be sure to stop by booth #336 at this year's Buffalo Home Show at the Buffalo Niagara Convention Center March 9-11 and March 16-18. Don't have tickets yet? Purchase them online and save $3.00 off the box office price!
MARCH 9-11 & 16-18, 2018
BUFFALO NIAGARA CONVENTION CENTER