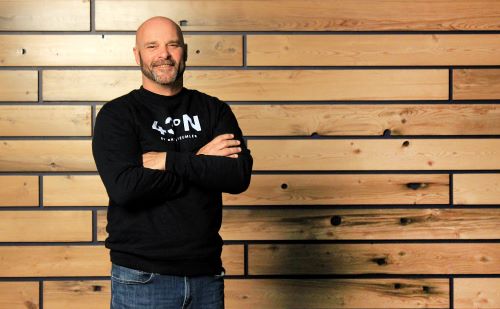 BRYAN BAEUMLER
Bryan doesn't believe he's put in an honest day's work unless he gets his hands dirty. A natural-born teacher, the Gemini-award winning host has been educating and entertaining viewers across Canada and the US since 2007 on the hit shows Disaster DIY, Canada's Handyman Challenge, Leave it to Bryan, House of Bryan, Bryan Inc. and most recently Island of Bryan. Bryan also has a new show set to premiere later in 2023 on HGTV Canada. Bryan's quick wit and easy-going personality have made him a huge hit with viewers on all of his home renovation shows.
Learning valuable tricks of the trade from his father, a meticulous aircraft engineer, Bryan spent his childhood summers building his family's cottage from the ground up. After earning a dual degree in Political Science and Business, Bryan was headed towards a career of practicing law. Realizing he'd rather be renovating than being chained to a desk, his innate passion for building took over and he traded in his tie for a tool belt and founded Baeumler Quality Construction.
A few kids and number of hit TV shows later, Bryan continues to tackle home renovation projects, be the spokesperson for numerous products and expand his growing businesses to include Baeumler Approved and Baeumler Custom Cabinetry. Having just wrapped up filming for Island of Bryan with wife Sarah, where viewers were able to watch them restore a small abandoned resort on South Andros Island in the Bahamas, Bryan will now take the lessons learned from Cauerela Mar Club and aim to help others in his new show set to premier later this year or early next. For more information about Bryan, visit bryanbaeumler.com.