Feature Garden
Enjoy the sights and scents of spring in the 2023 feature garden created by A-1 Land Care. This spectacular space can be recreated in your backyard so you can entertain or relax outdoors all summer long!
OVERALL LANDSCAPE DESIGN AND PROJECT MANAGEMENT BY: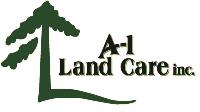 A-1 Land Care Inc. returns for the 2023 Buffalo Home Show to enhance the newly renovated lobby of the Buffalo Niagara Convention center with a crisp, modern landscape display. You'll enjoy a unique experience with all-new hardscape products and a mix of traditional and tropical plantings. Centering the display, will be a raised composite deck built by Dorner Decking. LightScapes of WNY will illuminate the area with one-of-a kind fixtures; while furniture, planters, and decorative accessories from Inspired Space Design will create an environment visitors will be eager to recreate at home. As they stroll through the beautiful landscape, attendees are invited to bring their own project ideas to discuss with the experts.